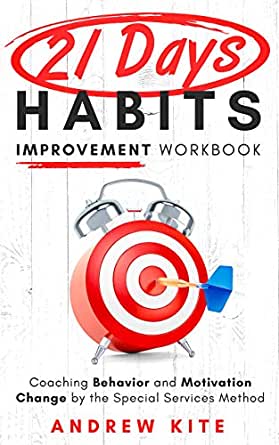 English | April 20, 2020 | ISBN: N/A | ASIN: B087CRQC5P | 131 Pages | MOBI | 0.28 MB
Why is it no matter what you try, you never seem to have it when you really need it?
How are you ever going to achieve success if you can't even motivate yourself to complete the simplest of tasks?
Sometimes to get started you need to learn from the best.
Inside The 21-Day Habit Improvement Workbook, the 21 top habits that help the armed service personnel from around the world are laid bare for your benefit.
From acclaimed businessman and ex-army Andrew Kite, comes a deep dive into all of the training methods that have helped him achieve success throughout his career.
Having barely finished school and struggling to find the motivation to really do anything of worth, he decided to enlist into the armed forces. The next 5 years transformed his entire outlook on the world and how he was living. After leaving he went to university, graduated top of his class and spent the next 15 years working for international companies in leadership positions.
He learned the right habits and it led him to success.
Explore these secrets in The 21-Day Habit Improvement Workbook:
21 habits guaranteed to get you up and completing tasks All the hacks used by the armed forces to train their expertsThetop trick that allows a special agent to have high levels of productivityThe journey that takes years for professionals to go through, condensed into book form
Other self-help books beg you to listen to their highbrow spiritual advice and find the truth within.
This book is nothing like that. This is a no-nonsense book that will tell you exactly what you need to do if you are struggling to find motivation.
Experience the full breadth of knowledge that special agents are encouraged to master, condensed into a 21-day work plan.
Overcome your motivation issues with:
Targeted habits that will increase your focus when you most need it
There is nothing stopping you from reaching success in your work or personal life. It just takes the drive to get out there and chase what you want.
That all starts with making habits that will keep you going when everything is telling you to stop.
When agents are alone in the field, it is the culmination of all their training that allows them to keep going against what seems to be insurmountable odds. Their training taps them into a source of motivation that allows them to come back home successfully.
It isn't easy to reach the same level as them, but every success story starts somewhere.
Start here.
Download:
http://usafiles.net/Z04/21-Day_Habit_Improvement_Workbook.mobi